Pay Per Click Management
Pay per click (PPC) campaigns are utilized for businesses looking for immediate website traffic. While there are per click costs associated with PPC campaigns, they can be extremely helpful for businesses that need immediate traffic or for businesses looking to go after a large amount of keywords. PPC campaigns can also be used for businesses that don't have a large enough budget or time frame to gain organic rankings for highly competitive keywords.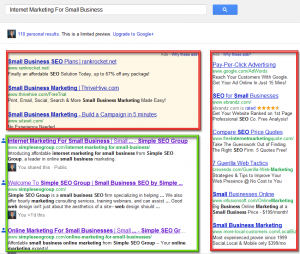 When searching on search engines such as Google, Yahoo, or Bing, there are two categories of results that come up: organic results and PPC results. The organic results (pictured to the right in green) are websites that rank naturally by utilizing SEO to rank. They do not incur any costs per click and receive free traffic from search engines. The PPC results (pictured to the right in red) are websites that are paying search engines to show up on the first page of results, and they incur a cost for each click ranging from $2 up to $20 per click.
In most cases, we recommend an SEO campaign over a PPC campaign. However there are some cases in which a PPC campaign works extremely well:
New Businesses: If you have a brand new business it makes sense to invest in PPC to get your website out there immediately; however as a long term marketing strategy this will get extremely expensive
In Conjunction With SEO: SEO takes a bit of time before you see results, so in some cases when a client needs immediate results we manage a PPC campaign for them until they rank naturally, then they receive all their traffic from organic results
Large Amount Of Keywords: If you have a small budget and small time frame but want to go after a large amount of keywords, then a PPC campaign would be perfect for you.
Low Search Traffic: When we schedule your free consultation, we have done some preliminary research into your niche and search metrics.  If your niche has very low search traffic, we'll recommend PPC ads instead of SEO in some cases depending on the level of competition and cost per click
PPC Certification
We are certified and have passed all required testing by Google and Microsoft to manage Adwords PPC campaigns. Most PPC providers and advertising firms are not qualified, so make sure you go with a qualified firm to maximize your ROI and have a smoothly run campaign.
In addition to advertising on Google, we offer PPC management and advertising on various other websites including:
Google, Bing, Yahoo
Facebook, Tiwtter, Youtube
3rd Party Niche Specific Websites
Click To Schedule A Consultation Or Call Us At 1-888-918-1665