To protect the privacy of our client and their business, any identifying information has been removed from this case study. We value the privacy of our clients and extend this same courtesy to all our clients.
In October 2014, we started working with a national business based in New York on an organic SEO campaign.  Prior to working with us, they had never put any emphasis on organic traffic or lead generation online.  This case study will outline how we took them from about 650 organic visitors a month when we started to over 5,000+ today and still growing, and how we have ranked 95% of their keywords on page 1 of Google.
Background Details
At the start of our campaign, this company was doing some of the right things online.  They had a decent website, were blogging regularly, keeping their social profiles updated at least weekly, and had a stronger online presence than many of the businesses we start working with.
However they were far from experts at organic traffic growth, and were doing all their work in-house and making many mistakes when it came to Google rankings.  Ironically, this company is a well known marketing firm, but they don't specialize in digital or organic traffic.
The Strategy
We always start an organic campaign with a game plan, and the strategy for this client wasn't too different from our other clients:
On-Site Optimization: We worked with the client upfront to expand on their service offerings, instead of having one core service page we created nearly 20 sub-service pages so we had pages to work with when optimizing for organic traffic.  We also reworked their website and made coding adjustments in their WordPress site to allow us to properly optimize their coding, page load time, mobile experience, title tags, headings, and other SEO factors.
Content: We took their current blogging of 2x per month and increased it to 4-6 posts per month.  We also engaged in extensive long tail keyword research so we were blogging about topics their potential customers are actually searching for on Google.
Off-site SEO: Our team began link building, both through link outreach as well as grabbing the lower hanging fruit like business directories and websites.  We also took advantage of some of the awards they have won, accreditations they have, and business partnerships to gain links from these high quality sources.
We engaged in all these techniques from day one, and we were fortunate to have a client who understands organic growth doesn't happen overnight so they stuck at it and remained committed to SEO for two years now.
The Outcome
Results really speak for themselves.  The first chart below plots the number of keywords on pages 1, 2, 3, and beyond on Google.  When we started the campaign, there were a few keywords on pages 1 and 2, but most keywords were not ranking at all.  Today, we have 61 keywords which we are tracking on page 1 (and 52 of them are the top 3 results) and 3 keywords on page 2.  And those are just the competitive terms which we are tracking, there are hundreds of other variations and similar terms also ranking on page 1.
And in the second chart, we look at organic traffic to the website.  It increased from about 650 organic visitors when we started to now over 5,000 organic visitors a month and still growing.
Most importantly, this traffic has resulted in some great leads.  This client primarily works with Fortune 500 and Inc 5,000 businesses, and they are generating numerous leads online as a result of our SEO efforts.  They have also reported that businesses who they meet offline often search for key terms in their industry and are impressed and given validation when they find our client ranking well for many of their industry terms.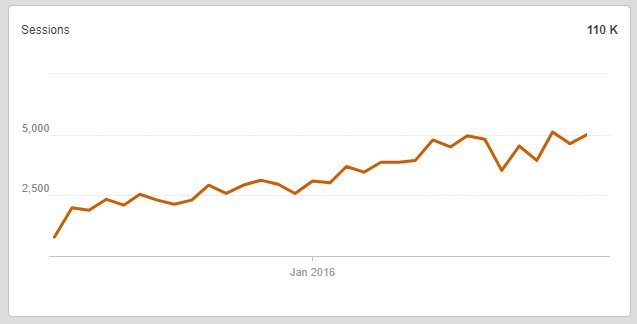 What's Next?
We are still actively working with this client and maintaining rankings for our current keywords as well as adding a few new terms each month to optimize.  We are anticipating within the next 12 to 18 months that we will yet again double their organic traffic and they will be receiving around 10,000 organic visitors per month.
If you're interested in learning more about how we help businesses increase their organic traffic like we did for this client, call us at 888-918-1665 or submit the form below!