Simple SEO Group recently redesigned and developed the website of the Law Office of Robert Egan, a Chicago based litigation attorney.  The site was updated for the first time in over 5 years and went through a dramatic transformation.
The Old Website Problems: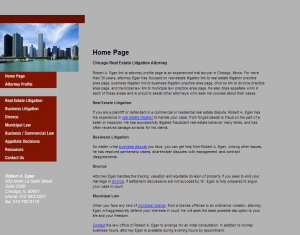 The law office's old website was a template based site designed by a company that specializes in template based attorney websites.
While the site was obviously dated aesthetically, it also was something that the attorneys could not directly update on their own.
Additionally, they were being charged a fee each month just for using the website template!
The Solution & Project:
Simple SEO Group and our team came in to completely redesign the website on both the front end as well as the back end.
Our team started with interviewing the client to determine color scheme, aesthetics, and core legal practice areas.  We then designed a homepage template and interior designs to fit the needs of the law firm and highlight the critical practice areas which they wanted to focus on.
We built out the site on the latest version of WordPress, which allows the law firm to directly edit or modify any of the content on the website.  We also incorporated a blog and news section where the firm can post legal articles, verdicts, and other important information.
The site was responsively designed to scale appropriately for smartphones, tablets, as well as any resolution computer, and during the design process an emphasis was placed on funneling leads to various contact forms and the main phone number.
The Outcome:
The entire site was built in just under 3 weeks, and has given the firm a new, clean, and updated look on the internet.
Click Site To Enlarge