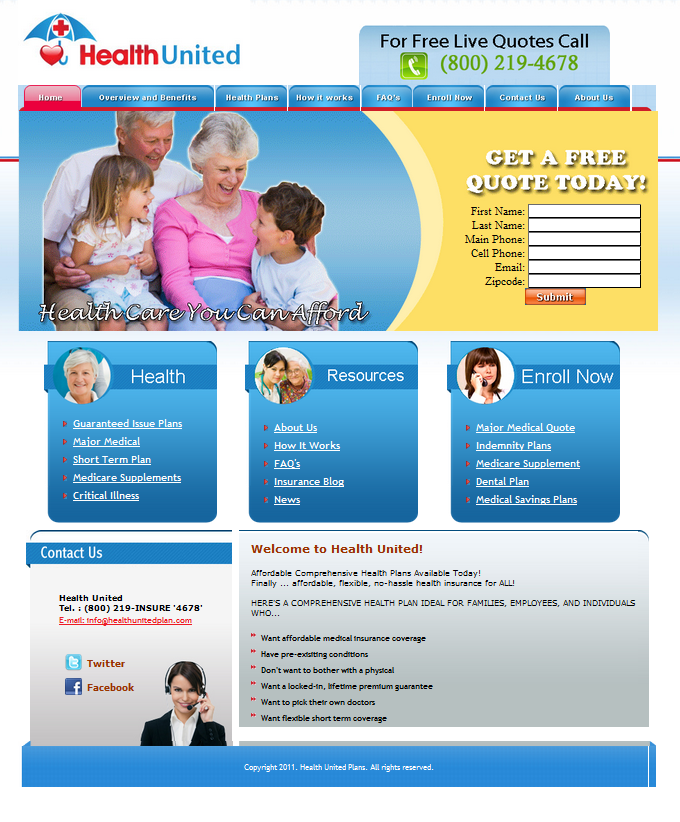 Health Care United is an insurance quote and pricing provider offering various types of health insurance plans. Their old website was elegantly designed but wasn't functioning properly to capture visitor information and generate leads and quote requests.
Simple SEO Group and our design team came in to make dramatic changes to the site to improve the usability and increase conversions. Our main goal was make the website content the secondary focus of the site and to bring the main focus to the quick quote forms. We strategically placed these forms in the website with proper design and color elements to draw the visitor's attention away from the website content and straight to the main lead generation form. This change in design has allowed Health Care United's conversion rate to improve and has helped them generate new leads. Our main goal with this project was to improve the number of leads for Health Care United while still keeping an elegant, clean website layout and once again our team pulled through to meet and exceed our client's expectations.
If you have any questions about our projects or want to learn how our services can help improve your website, click here to request a free consultation or call us at 1-888-918-1665.