JunkVets is a Chicago based junk and debris removal company that is veteran owned and founded.  They specialize in estate cleanouts, general junk removal, vehicle remover, and disaster cleanup.  Simple SEO teamed up to build their junk removal website to help them improve their current site and focus on gaining more business with a new, professional website.
The Website Problems:
JunkVets had an existing website that was extremely basic and poorly designed.
The overall look of the site was fairly dated and the site had very poor navigation.  The site also had a blog which was not utilized and did not match the look/design of the main part of the website.  The main website was not in any sort of content management system (CMS) which left the site owner unable to make changes or revisions to the website as needed.
As pictured to the left, the old site also did not focus on the company's core focus — junk removal.  While being a veteran owned and operated business is important to JunkVets, it isn't their main selling point or their core focus.  With an improper focus, poor navigation, and poor design, JunkVets was clearly in need of an updated, newly designed website.
The Solution & Project:
Simple SEO Group and our developers came in to completely redesign the JunkVets website.  As a newer business, JunkVets was seeking a well designed but basic website that would fit within their budget but be scalable as the business grows.
We started out with programming and launching a new WordPress site for JunkVets.  Wordpress will give JunkVets every option they need for their business website, including three core features:
Powerful yet friendly content management so the business can make basic site changes as needed
A blog to help the business keep their customers informed and also for SEO value
Overall SEO friendly coding and the easy of implementing on-going SEO and marketing related changes
After agreeing upon the initial design of the site, we started by redesigning the JunkVets logo.  Once we had a color scheme in place and a new design, our programmers built out the basic 6 page website and launched the new site.
The Outcome:
We've tracked a sizable increase in website traffic immediately following the website launch and have also seen an increase in organic search engine rankings.  Our client is extremely pleased with the website and has began an ongoing SEO campaign to continue to grow the business.  Our focus is not just on building websites, but on building websites that help our clients see more traffic, more inquiries, and make more money.  

Click Site To Enlarge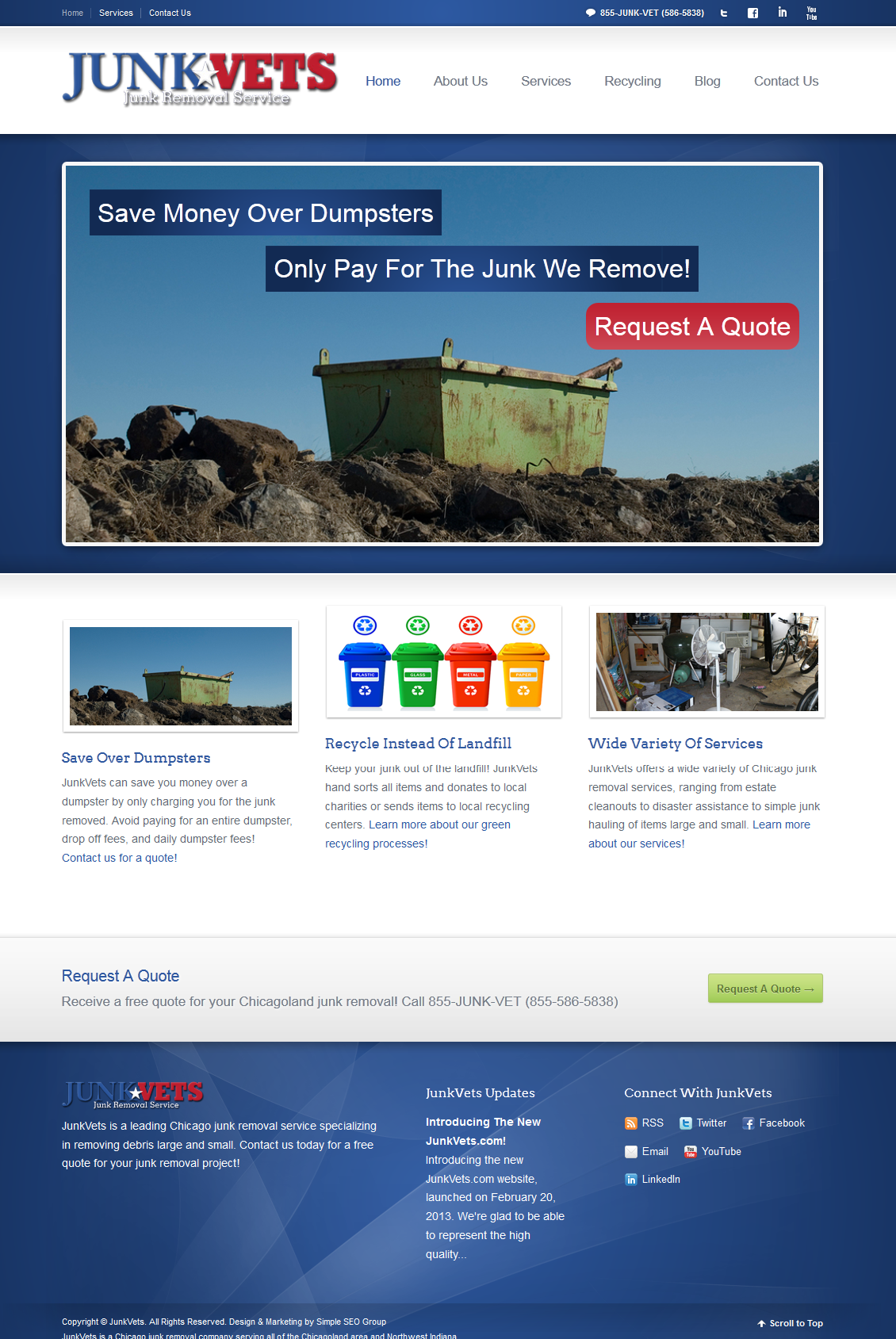 If you operate a junk removal service and are in need of a new or replacement website, fill out the form below to schedule a free consultation. We'll explain the options available to you for your website and also explain how having a professionally built, marketing focused website for your junk removal company will help you make more money.